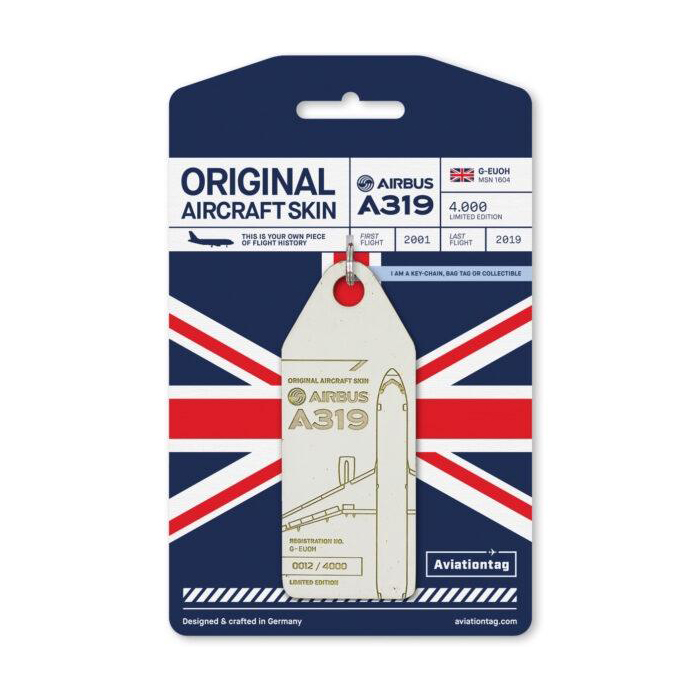 AVIATIONTAG Airbus A319 - G-ECOH - White (British Airways)
SKU: 13174
by AVIATIONTAG
Aviationtag have been taking original airplane parts off from what were once real-life airliners and turning them into premium, one-of-a-kind designer and collector's items since as far back as 2006. In 2015, Aviationtag had the idea of making the world a little bit better by upcycling scrapped airplanes into special 'Aviationtags'. Alongside commercial planes like the Boeing 747 or the Airbus A340, they have also given historical aircraft like the DC-3 "candy bomber" a second life as an Aviationtag.
The Aviationtags themselves are 100% authentic original airplane skin. The origin of the material can be traced back seamlessly all the way to when the plane was first sold for scrap.
Airbus A319: The Airbus A319 is the second jet – chronologically speaking – in the well-known A320 family. Official work on the aircraft commenced on June 10, 1993 and its maiden flight soon followed on August 25, 1995 from Hamburg – Finkenwerder. With its fuselage length of almost 34 m, the A319 is about 3.8 m shorter than the basic A320 model, but still offers top of the range passenger comfort. With its flexible and generous seat width and extra-wide aisle, it sets new standards for passenger cabin flexibility in this segment.
Introducing Aviationtag's first Speedbird, which was actually also an Olympic dove: the former British Airways Airbus A319-100 sporting registration G-EUOH. In December 2001, MSN 1604 left Airbus' factory doors headed for the British flag carrier in a single class configuration with 132 seats.
During its 17 years of active service for British Airways, G-EUOH enjoyed the privilege of being one of just nine planes between 2012 and 2015 to take to the skies with a special livery to mark the London 2012 Olympic Games. In designer Pascal Anson's livery, which also covered the wings and engines, the plane had the look of a golden dove.
In 2015, MSN 1604 returned to its classic British Airways livery and remained in service for the Oneworld member until 2019. This Aviationtag edition proudly preserves a piece of British aviation and Olympic history for posterity.
Note: Every tag is unique. Depending on the plane, tags may vary in haptics, thickness of material and colour. Small irregularities tell of a plane's long history and convey the feeling of its glory days above the clouds.
Dimensions: 35 x 88mm.