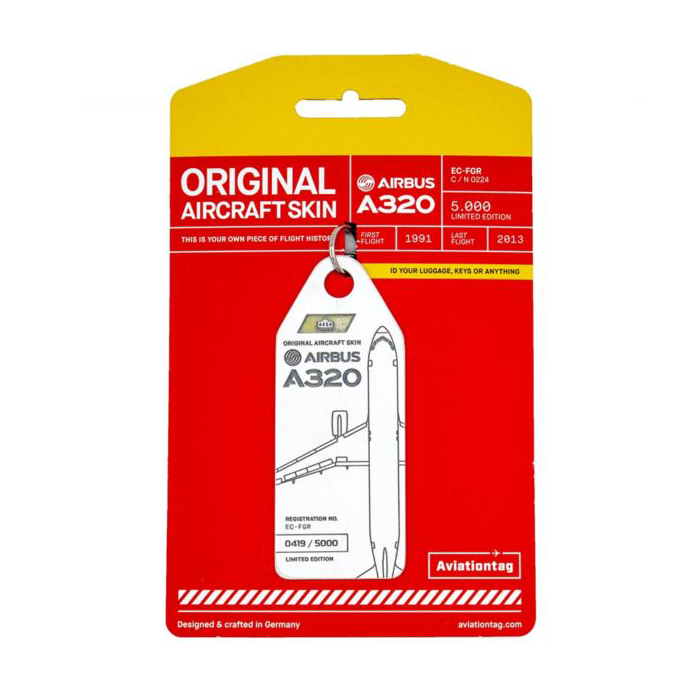 AVIATIONTAG Airbus A320 - EC-FGR - White (Iberia)
SKU: 13108
by AVIATIONTAG
Aviationtag have been taking original airplane parts off from what were once real-life airliners and turning them into premium, one-of-a-kind designer and collector's items since as far back as 2006. In 2015, Aviationtag had the idea of making the world a little bit better by upcycling scrapped airplanes into special 'Aviationtags'. Alongside commercial planes like the Boeing 747 or the Airbus A340, they have also given historical aircraft like the DC-3 "candy bomber" a second life as an Aviationtag.
The Aviationtags themselves are 100% authentic original airplane skin. The origin of the material can be traced back seamlessly all the way to when the plane was first sold for scrap.
Airbus A320: The Airbus A320 is a short- to medium-range, narrow-body commercial passenger twin-engine jet airliner which can carry a maximum of 180 passengers. It is produced by the European manufacturer Airbus S.A.S. As a first version it is the base model for the low wing aircrafts of the A320 family. The A320 family also pioneered the use of digital fly-by-wire flight control systems, as well as side-stick controls, in commercial aircraft, which is why they were also called "Atari Planes".
Hola Iberia! Airbus A320 EC-GFR. Delivered to Iberia in 1991 with the MSN 224, the A320-200 flew under the name of "Dehesa de Moncayo" (the name of a Spanish nature preserve) for the former state carrier of the Iberian Peninsula up until 2012. In 2012, restructuring led to the foundation of Iberia Express, which the EC-GFR took to the skies for up until 2013.
Note: Every tag is unique. Depending on the plane, tags may vary in haptics, thickness of material and colour. Small irregularities tell of a plane's long history and convey the feeling of its glory days above the clouds.
Dimensions: 35 x 88mm.