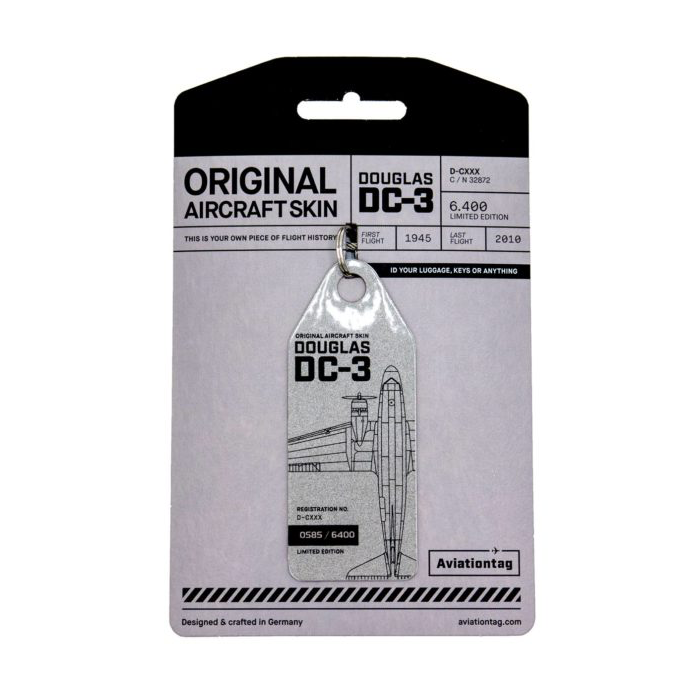 AVIATIONTAG Douglas DC-3 - D-CXXX - Silver (Candy Bomber)
SKU: 13114
by AVIATIONTAG
Aviationtag have been taking original airplane parts off from what were once real-life airliners and turning them into premium, one-of-a-kind designer and collector's items since as far back as 2006. In 2015, Aviationtag had the idea of making the world a little bit better by upcycling scrapped airplanes into special 'Aviationtags'. Alongside commercial planes like the Boeing 747 or the Airbus A340, they have also given historical aircraft like the DC-3 "candy bomber" a second life as an Aviationtag.
The Aviationtags themselves are 100% authentic original airplane skin. The origin of the material can be traced back seamlessly all the way to when the plane was first sold for scrap.
Our limited-edition DC 3 Series is crafted from the left wing of the historic C-47B-30-DK – better known as the "candy bomber". On its mission during the Berlin Airlift in 1948/49 the candy bomber ensured the survival of many Berlin citizens. Afterwards it travelled half the world – from France to Indonesia – before returning to Germany, where it made its very last flight together with the historic Ju52 on October 30, 2008 at five to midnight from the world's longest serving airport – Berlin Tempelhof – thus ending the era of the "mother of all airports".
Please note that the front-side of the tag is printed and not laser engraved, which makes it more sensitive.
Note: Every tag is unique. Depending on the plane, tags may vary in haptics, thickness of material and colour. Small irregularities tell of a plane's long history and convey the feeling of its glory days above the clouds.
Dimensions: 35 x 88mm.