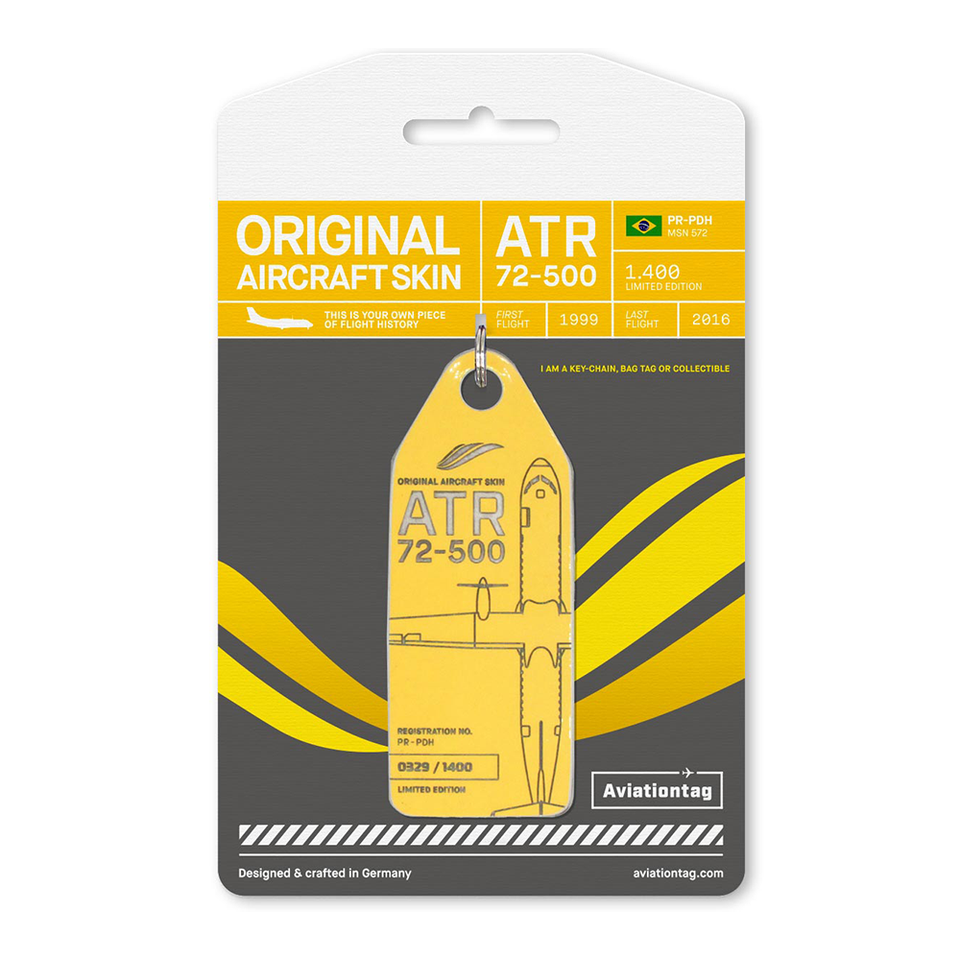 AVIATIONTAG Airbus ATR 72-500 - PR-PDH - Light Yellow (Passaredo Linhas Aéreas)
SKU: 13574
by AVIATIONTAG
Aviationtag have been taking original airplane parts off from what were once real-life airliners and turning them into premium, one-of-a-kind designer and collector's items since as far back as 2006. In 2015, Aviationtag had the idea of making the world a little bit better by upcycling scrapped airplanes into special 'Aviationtags'. Alongside commercial planes like the Boeing 747 or the Airbus A340, they have also given historical aircraft like the DC-3 "candy bomber" a second life as an Aviationtag.
The Aviationtags themselves are 100% authentic original airplane skin. The origin of the material can be traced back seamlessly all the way to when the plane was first sold for scrap.
Brazil is colourful and diverse – just like the latest Aviationtag edition! The ATR 72-500 from Brazilian airline Passaredo Linhas Aéreas means we finally have a turboprop back in the Aviationtag fleet.
In 1999, PR-PDH sporting manufacturer serial number (MSN) 572 was initially delivered to the Indian airline Jet Airways, operating under registration VT-JCA. After four years of taking to the skies with Jet Airways, the ATR 72 was returned to its lessor and parked in Ireland with the registration EI-FAN.
In November, a new lessee was finally found, with the plane making its way to Brazil to fly for Passaredo Linhas Aéreas as PR-PDH. Passadero christened the ATR "Tucano" after a municipality in the province of Bahia.
In late 2016, the MSN 572 returned to its lessor and was parked in Saarbrücken. It was there that we discovered the colourful plane and were able to lock in the most beautiful parts for our latest Aviationtag Edition when it was scrapped!
Note: Every tag is unique. Depending on the plane, tags may vary in haptics, thickness of material and colour. Small irregularities tell of a plane's long history and convey the feeling of its glory days above the clouds.
Dimensions: 35 x 88mm.