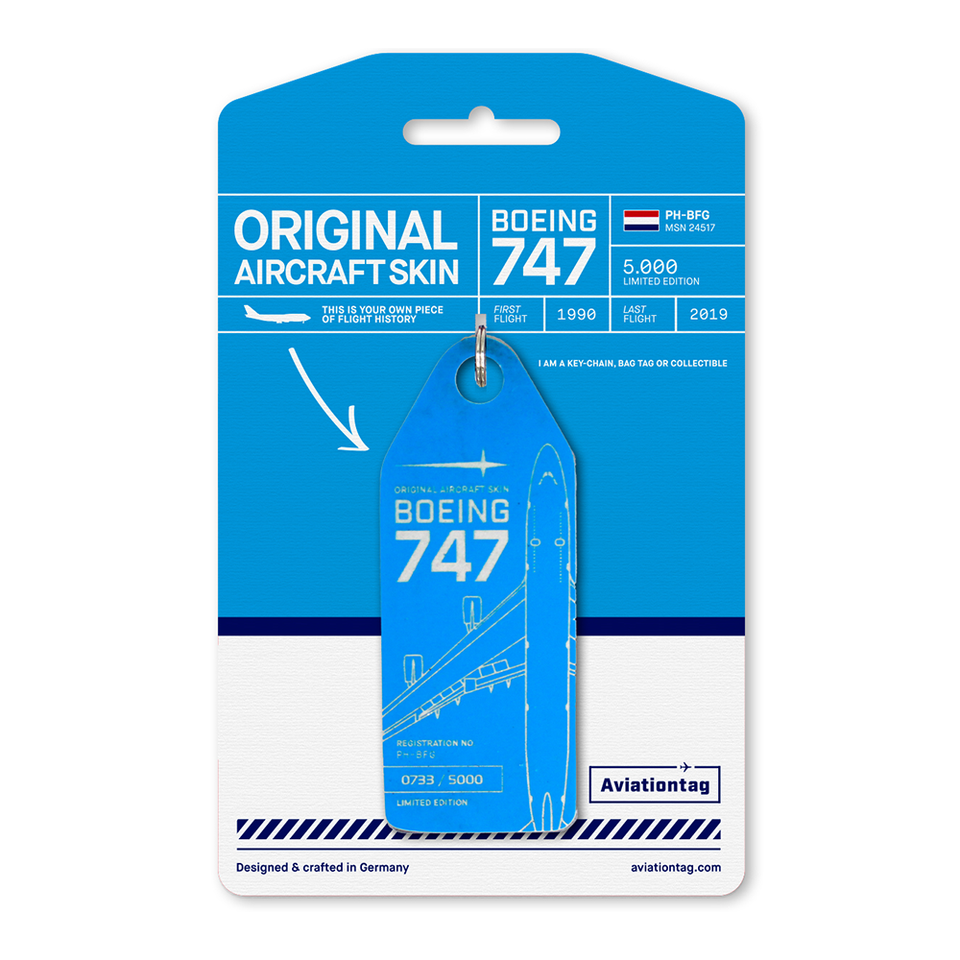 AVIATIONTAG Boeing 747 - PH-BFG - Blue (KLM)
SKU: 13566
by AVIATIONTAG
Aviationtag have been taking original airplane parts off from what were once real-life airliners and turning them into premium, one-of-a-kind designer and collector's items since as far back as 2006. In 2015, Aviationtag had the idea of making the world a little bit better by upcycling scrapped airplanes into special 'Aviationtags'. Alongside commercial planes like the Boeing 747 or the Airbus A340, they have also given historical aircraft like the DC-3 "candy bomber" a second life as an Aviationtag.
The Aviationtags themselves are 100% authentic original airplane skin. The origin of the material can be traced back seamlessly all the way to when the plane was first sold for scrap.
The Boeing 747-400 left the factory doors for Dutch airline KLM in April 1990 sporting registration PH-BFG and manufacturer serial number (MSN) 24517. Christened "City of Guayaquil", the plane served Hong Kong, Tokyo and Toronto, to name just a few destinations, for almost 30 years.
In 2019, the plane was retired, changing hands to Air Atlanta Icelandic for recycling. They re-registered it as TF-AMG, parking it at Cotswold Airport, where it was finally dismantled in March 2021.
Note: Every tag is unique. Depending on the plane, tags may vary in haptics, thickness of material and colour. Small irregularities tell of a plane's long history and convey the feeling of its glory days above the clouds.
Dimensions: 35 x 88mm.