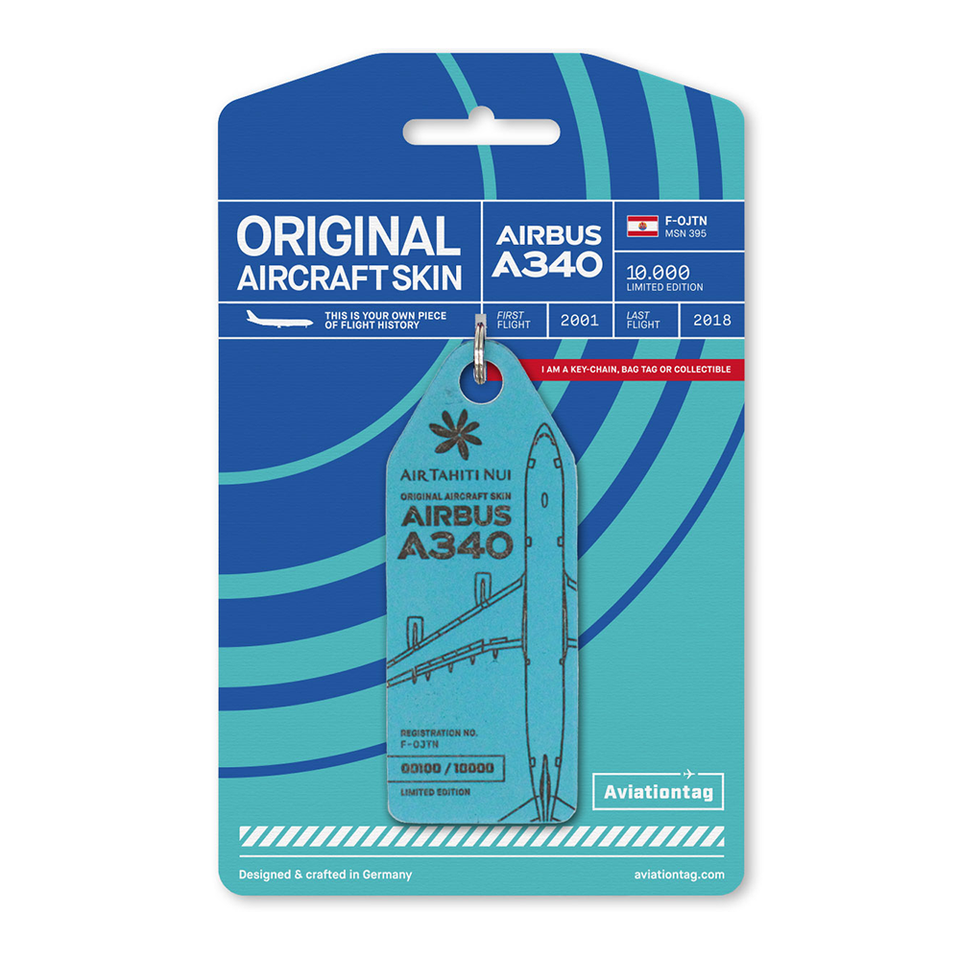 AVIATIONTAG Airbus A340 - F-OJTN - Light Blue (Air Tahiti Nui)
SKU: 13572
by AVIATIONTAG
Aviationtag have been taking original airplane parts off from what were once real-life airliners and turning them into premium, one-of-a-kind designer and collector's items since as far back as 2006. In 2015, Aviationtag had the idea of making the world a little bit better by upcycling scrapped airplanes into special 'Aviationtags'. Alongside commercial planes like the Boeing 747 or the Airbus A340, they have also given historical aircraft like the DC-3 "candy bomber" a second life as an Aviationtag.
The Aviationtags themselves are 100% authentic original airplane skin. The origin of the material can be traced back seamlessly all the way to when the plane was first sold for scrap.
French Polynesian airline Air Tahiti Nui is celebrating the 25th anniversary of its maiden flight this year, which we are marking with a joint Aviationtag edition crafted from the F-OJTN. The Aviationtag X Air Tahiti Nui series was upcycled from the former Airbus A340-300 sporting manufacturer serial number (MSN) 395.
Originally ordered by Sabena, the A340 was completed in 2001 with the registration OO-SBQ. The liquidation of Sabena meant it did not take delivery of the Airbus though, so it was leased to the Canadian charter carrier Canada 3000 instead, which then also ceased operations, however.
In January 2002, Air Tahiti Nui took ownership of the MSN 395, christening it "Bora Bora" and giving it its ultimate registration. The F-OJTN then took to the skies for 16 years, connecting the carrier's hub, Faa'a International Airport (also known as Tahiti International Airport), with the world.
In 2018, the F-OJTN was retired after 65.084 flight hours, 7.931 flight cycles and parked in the US, where it was eventually scrapped in 2021 – the opportunity for us to acquire some parts of the "Bora Bora" and upcycle them for the Aviationtag X Air Tahiti Nui Edition. "Bora Bora" is now writing the next chapter in its story as an Aviationtag.
Note: Every tag is unique. Depending on the plane, tags may vary in haptics, thickness of material and colour. Small irregularities tell of a plane's long history and convey the feeling of its glory days above the clouds.
Dimensions: 35 x 88mm.