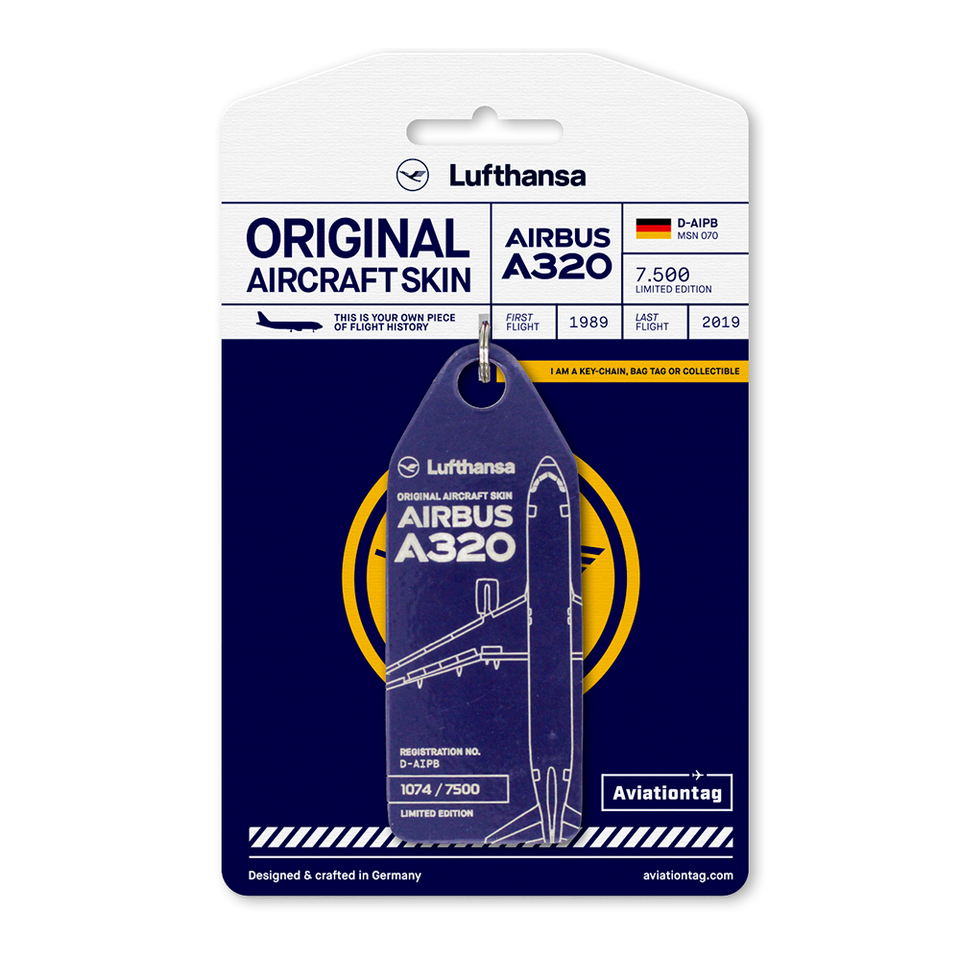 AVIATIONTAG Airbus A320 - D-AIPB - Blue (Lufthansa)
SKU: 13570
by AVIATIONTAG
Aviationtag have been taking original airplane parts off from what were once real-life airliners and turning them into premium, one-of-a-kind designer and collector's items since as far back as 2006. In 2015, Aviationtag had the idea of making the world a little bit better by upcycling scrapped airplanes into special 'Aviationtags'. Alongside commercial planes like the Boeing 747 or the Airbus A340, they have also given historical aircraft like the DC-3 "candy bomber" a second life as an Aviationtag.
The Aviationtags themselves are 100% authentic original airplane skin. The origin of the material can be traced back seamlessly all the way to when the plane was first sold for scrap.
Following the Boeing 747, the iconic Boeing 707 and the Airbus A340, we are now adding the Airbus A320 to our Aviationtag Lufthansa fleet with the plane "Papa Bravo". The D-AIPB was a real oldie, sporting the very early MSN 70. To put this into context: Airbus already delivered MSN 10,000 to Middle East Airlines in 2020 and is currently at MSN 11,137.
The D-AIPB left the factory doors for the Star Alliance member back in October 1989 – so before the reunification of Germany – and was christened "Heidelberg". It was not until 2019, so after more than 30 years of service, that the Airbus A320-211 was retired and finally recycled in 2020 in Ostend.
Now the "Papa Bravo" lives on as an Aviationtag edition, continuing the long history of the successful Airbus A320 project.
Note: Every tag is unique. Depending on the plane, tags may vary in haptics, thickness of material and colour. Small irregularities tell of a plane's long history and convey the feeling of its glory days above the clouds.
Dimensions: 35 x 88mm.