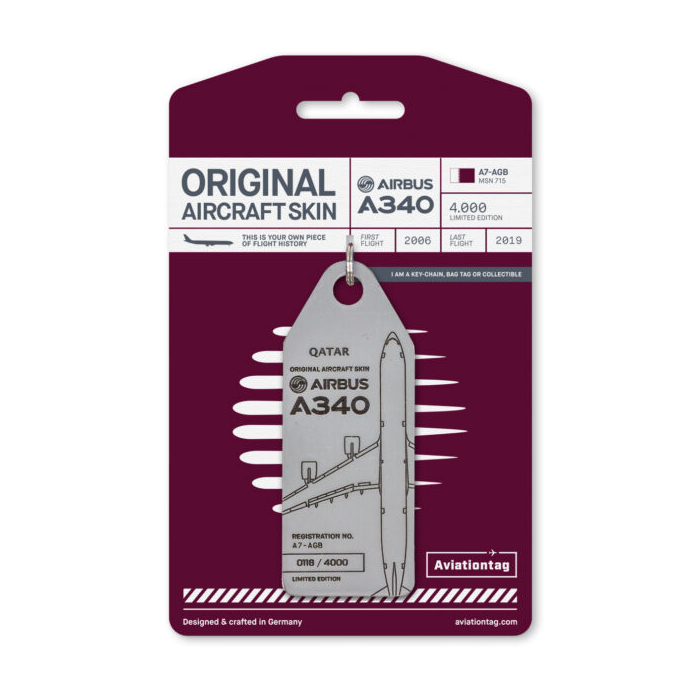 AVIATIONTAG Airbus A340 - A7-AGB - Grey (Qatar Airways)
SKU: 13110
by AVIATIONTAG
Aviationtag have been taking original airplane parts off from what were once real-life airliners and turning them into premium, one-of-a-kind designer and collector's items since as far back as 2006. In 2015, Aviationtag had the idea of making the world a little bit better by upcycling scrapped airplanes into special 'Aviationtags'. Alongside commercial planes like the Boeing 747 or the Airbus A340, they have also given historical aircraft like the DC-3 "candy bomber" a second life as an Aviationtag.
The Aviationtags themselves are 100% authentic original airplane skin. The origin of the material can be traced back seamlessly all the way to when the plane was first sold for scrap.
Airbus A340-600: The A340-600 is 12 m longer than an A340 -300, more than 4 m longer than the Boeing 747-400 and even 2.3 m longer than the A380. It held the record for the world's longest commercial aircraft until the first flight of the Boeing 747-8 in February 2010. The maximum take off weight is 360 tons including a cargo volume of up to 201.7 cubic meters.
Voted the world's best airline in the Skytrax Ranking 2019, Qatar Airways is now also part of the Aviationtag fleet with its former Airbus A340-600 registered as A7-AGB. The A340 was built by Airbus in 2006 with the MSN 715 and test registration F-WWCR before being delivered to Doha. Qatar Airways christened the plane "Ras Dukhan".
Just 13 years after entering into operation, Qatar Airways' A7-AGB was retired in May 2019 and transferred from Doha to Enschede in the Netherlands, where it was recycled and parts of the outer skin were upcycled into our Aviationtags.
The number of airworthy four-engine wide-body aircraft still out there worldwide is now decreasing slowly but surely, but once again, thanks to the A7-AGB Aviationtag edition, a piece of quad wide-body aviation history has been preserved.
Note: Every tag is unique. Depending on the plane, tags may vary in haptics, thickness of material and colour. Small irregularities tell of a plane's long history and convey the feeling of its glory days above the clouds.
Dimensions: 35 x 88mm.